Seen and Unseen by Stephen Alexander Clark
May 4-18, 2018
Opening Reception Friday, May 4 at 5:30 PM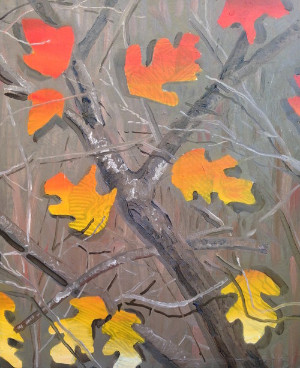 My current practice can be described as conceptual landscape painting. I am interested in the landscape, as a model, inasmuch as it is a reflection of how we relate to, and perceive, our environments and surroundings. After moving to rural upstate New York in the past two years, I have been inspired by the aesthetics of camouflage imagery. Camouflage is, in itself, a pictorial distillation of nature. It strives to imitate the natural environment as accurately as possible, while remaining generic enough to operate in multiple locations. Similar to certain online platforms, camouflage is designed to function as a "non-space" which is theoretically an infinitely expansive environment. Or, to put it more accurately, the appearance of an environment presented in two-dimensional space.  
Additionally, camouflage is the summation of nature and pattern, both of which have been reoccurring themes in my work. Camouflage imagery also has a strong connection with fashion, and I am continually interested in the potential cultural signifiers it carries.  
When considering our relationship to the landscapes and spaces in which we operate, what is visible? What is hidden? These questions, and others, continue to inspire my practice and exploration. 
For more of Alexander's work, visit stephenalexanderclark.com